Har Ghar Tiranga: Families Of Active Hizb Militants Hoist Tricolour In J-K's Sopore, Kishtwar | Watch
Rayees Mattoo, brother of wanted Hizb commander Javed Mattoo, hoisted the tricolour at his home on Sunday ahead of India's Independence Day.
New Delhi: The families of two wanted militants of the Hizbul Mujahideen terror outfit hoisted the national flag at their respective homes in Jammu and Kashmir's Sopore and Kishtwar districts on the occasion of the nation's 77th Independence Day.
In north Kashmir's insurgency-torn Sopore town, Rayees Mattoo, brother of wanted Hizb commander Javed Mattoo, hoisted the tricolour at his home on Sunday ahead of India's Independence Day.
Brother of Active Hizbul Mujahideen Militant commander Javid Mattoo, hoists tricolour at his Sopore home ahead of Independence Day.@indiatvnews pic.twitter.com/NQ0spIRX2l

— Mir Manzoor (@Mir_indiatv) August 13, 2023
'Hindustan Hamara Hai'
"We are all Indians, Hindustan hamara hai aur hum sab Hindustani hain (India is ours and we are all Indians. My brother chose the wrong path but that does not mean I hate my country. I hoisted the Tiranga with nothing but patriotism and love for my country in my heart. I love India," Rayees was quoted as saying by Republic TV.
'Kashmir has boycotted Pakistan'
Rayees rued the fact that his brother Javed chose the path of destruction and appealed the valley's youth not to make the same blunder his brother did. He revealed that Javed Mattoo, who is rumored to be operating from Pakistan, came back to Kashmir in 2016 but chose to leave again despite his brother's desperate efforts to leave terrorist activities and lead a normal life.
"People here (Kashmir) have understood Pakistan's nefarious tactics and are not boycotting those elements but actively preventing them from entering the valley. India is our country and our love for the nation and its protectors is paramount," Rayees said, according to the report.
'Har Ghar Tiranga'
Meanwhile, in a similar instance, the family of another active Hizbul Mujahideen terrorist, Mudassir Hussain, unfurled the national flag at their home in the border district of Kishtwar in Jammu region on Sunday.
Hussain's family revealed that they hoisted the tricolour as part of the 'Har Ghar Tiranga' campaign launched by Prime Minister Narendra Modi to unfurl the national flag ahead of Independence Day.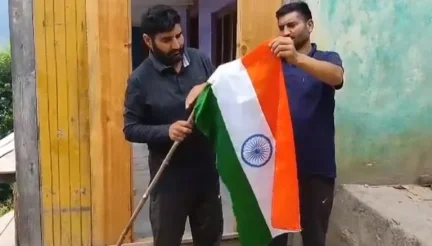 'Bring Our Son Back'
Talking to newsmen, Hussain's father, Tariq said his has chosen the wrong path even as he urged the government and relevant authorities to find his son and bring him back. We request the government to find him."
"We hoisted the national flag on our home and want every household to hoist the tricolour," Tariq told reporters at his home in the Dachhan area of the hilly district.
Hussain's mother said she wanted him to return and surrender before the security forces. "We tried our best to know his whereabouts but failed. The Army should find him for us as we want him to return," she added.
One of the most wanted terrorists in the Union territory, Hussain carries a reward of Rs 20 lakh on his head, according to police.
On Friday, Prime Minister Modi urged people of the country to take part in the 'Har Ghar Tiranga' movement between August 13 to 15.
(With PTI inputs)
Subscribe Now
Enroll for our free updates