Who is Mary Millben, The US Singer Who Touched PM Modi's Feet And is Now Siding With Him in Manipur Issue?
Mary Millben is an international singer who recently spoke about the Manipur violence and also expressed her alliance to PM Narendra Modi. This is not the first time she has taken sides with him, the American star has a connection with India that goes long back.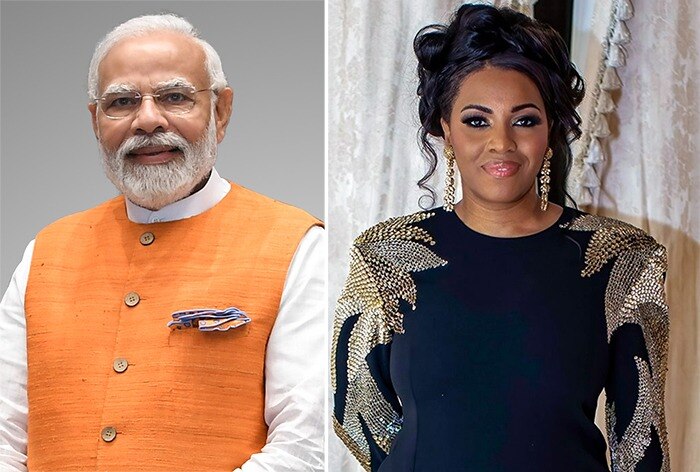 Manipur violence and Prime Miniter Narendra Modi's speech in Lok Sabha on Thursday is one of the most debatable issues currently.  It has become a topic of discussion and conversation over cups of tea at every other nukkad. Amid all the hubbub and chaos in the parliament on the same issue, an African-American singer Mary Millben has also come into the loop. The actress and singer on Thursday came out in support of PM Modi over the Manipur issue. Taking to her official Twitter handle Millben wrote, "And #PMModi trend will always fight for your freedom. PM Modi, you have my confidence. I praying for you. "
The truth: India has confidence in its leader. The mothers, daughters, and women of #Manipur, India will receive justice. And #PMModi will always fight for your freedom.

The truth: to associate with a party that dishonors cultural legacy, denies children the right to sing the… pic.twitter.com/KzI7oSO1QL

— Mary Millben (@MaryMillben) August 10, 2023
This is not the first time that the international singer has sided with PM Modi. She made headlines when she touched his feet and sought his blessings before performing the Indian national anthem at an event he attended on his state visit to the US in June. Prior to that, she also enthusiastically partook in International Yoga Day in the United Nations.
American singer Mary Milliben, after singing India's national anthem, touches Prime Minister Modi's feet… Earlier Prime Minister of PNG, in a moving gesture, had bowed down in reverence. The world respects PM Modi's powerful spiritual aura and rootedness in Indian values and… pic.twitter.com/qoA7ALLA3U

— Amit Malviya (@amitmalviya) June 24, 2023
Apart from the recent event, Millben has always shown her support for India and the Prime Minister.
WHO IS MARY MILLBEN, THE INTERNATIONAL SINGER WHO SPOKE ABOUT MANIPUR VIOLENCE
The story of internationally acclaimed singer Mary Millben is of the classic American dream. A native of Midwest Oklahoma, her musical journey began from the domes of a church. Right from her budding years, Milliben was exposed to the world of music where her mother played a major role. She sang her way from high school to becoming an international music sensation.
Blessed with a mellifluous voice, Milliben today is one of the most sought-after personalities around the globe. Mary has performed for four consecutive US Presidents -President George W Bush, President Barack Obama, President Donald Trump, and President Joe Biden- international royalty, and other world leaders. She has also performed at international events and featured at sporting events such as the NFL, NBA, and, the 2016 RIO Olympics.
MARY MILLIBEN'S CONNECTION WITH INDIA
Mary Millben made her maiden trip to India in August 2022. She was one of the invitees from the United States to grace a grand celebration of India's 75 years of Independence. In the grim year of the pandemic of 2020, she virtually performed India's national anthem and later that year she also gave a virtual rendition of the hymn close to home – Om Jai Jagdish Hare on Diwali.
If one scrolls through her Twitter, one can see how Milliben has been vocal about issues pertaining to India.
My heart grieves for the women assaulted in #Manipur. Thank you PM @narendramodi for publicly addressing this inhuman behavior. These women are not only daughters of #India, they are children of God. Human dignity matters to us all. I'm praying for these precious women and for…

— Mary Millben (@MaryMillben) July 20, 2023
She has also supported Indian leaders at different points in time.
An inspiration to me, to many young girls in India, and women across the world. President Droupadi Murmu is a true example of the Indian dream. Congratulations @rashtrapatibhvn Ji on your one year anniversary in office. PM @narendramodi, thank you for empowering women in #India. pic.twitter.com/JZX3jDKUmc

— Mary Millben (@MaryMillben) July 25, 2023
Millben has mustered great appreciation for her performances and continues to do so.
Subscribe Now
Enroll for our free updates