Google Doodle Honours Late Actress Sridevi on Her 60th Birth Anniversary
Google doodle celebrates Sridevi's 60th birthday on August 13th, 2023, Sunday. She is widely considered one of the most influential Bollywood actresses of all time.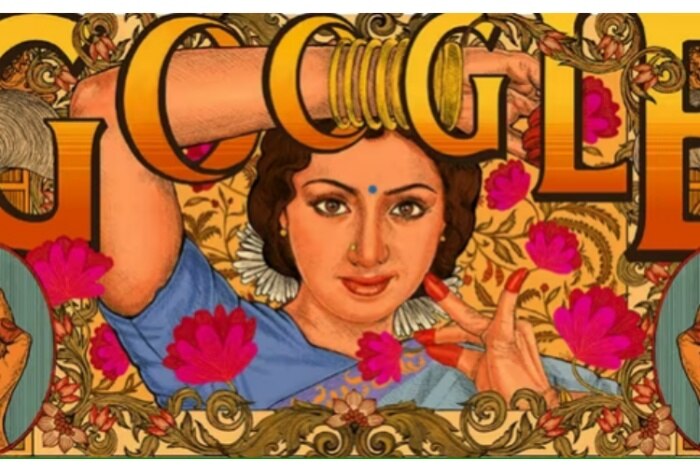 The late Bollywood star Sridevi's 60th birthday was honoured by a Google Doodle on August 13th, 2023, Sunday. The legendary actor, who was born in 1963, in Tamil Nadu, had a career spanning over four decades and acted in about three hundred films. The iconic actor worked in Tamil, Telugu, and Malayalam films early in her career, among other genres. She is now regarded as one of the most beloved figures in the cinema business. Google Doodle honours the actor Sridevi on the occasion of her 60th birthday anniversary.
GOOGLE DOODLE REMEMBERS ICONIC STAR SRIDEVI
Google credited Mumbai-based guest artist Bhumika Mukherjee for creating the lovely doodle artwork. The doodle paid homage to Sridevi, who was shown in a poised dancing position, and conveyed the spirit and aura of an Indian film with a dramatic typeface and warm colours. The caption next to the Google Doodle read, "Today's Doodle celebrates Indian actress Sridevi, who is widely considered one of the most influential Bollywood actresses of all time (sic)."
A part of the description on the tech giant read, "Sridevi took a break from acting in the early 2000s before starring in television shows like Malini and Kaboom. She then joined the Asian Academy of Film & Television board of directors. In 2012, she announced her comeback with English Vinglish; the film marked her successful return as a leading lady in Bollywood after a long hiatus. The Indian government also honoured her with the Padma Shri. In 2017, Sridevi starred in the crime thriller Mom as a rage-filled and protective mother, earning her the National Film Award for best actress."
"Sridevi forever made her mark on the film industry by charting new avenues for women to take on leading roles in Indian cinema. She will be remembered as one of the greatest Indian actors of her time. Happy birthday, Sridevi! (sic), Google concluded.
SRIDEVI LEFT A SIGNIFICANT MARK ON THE CINEMA INDUSTRY
Sridevi aka Shree Amma Yanger Ayyappan paved the way for artists in the cinema business. One of the first actors to become a superstar both in the South and the North. Sridevi dismantled obstacles for women and opened the road wide to success.
Did you know that Sridevi also received the Padma Shri award from the Indian government in 2013? She won the National Film Award for best actress later that year for the murder thriller 'Mom,' which is about a ferociously protective mother. Sadma, ChaalBaz, Mr India, Nagina, Chandni, Lamhe, and are some of her popular movies.
Sridevi is survived by two daughters, Janhvi Kapoor and Khushi Kapoor, and film producer-husband Boney Kapoor. Sadly, the actress drowned by accident in Dubai in 2018 and passed tragically.
For many years to come, next generations of Indian performers will be inspired by Sridevi's legacy.
Subscribe Now
Enroll for our free updates