Manipur Violence: What Triggered Ethnic Clashes And Why Is It Happening Now
Two communities - Meitei and Kuki - have essentially been at war with each other over the battle for influence and land in one of the worst ethnic clashes that broke out in Manipur.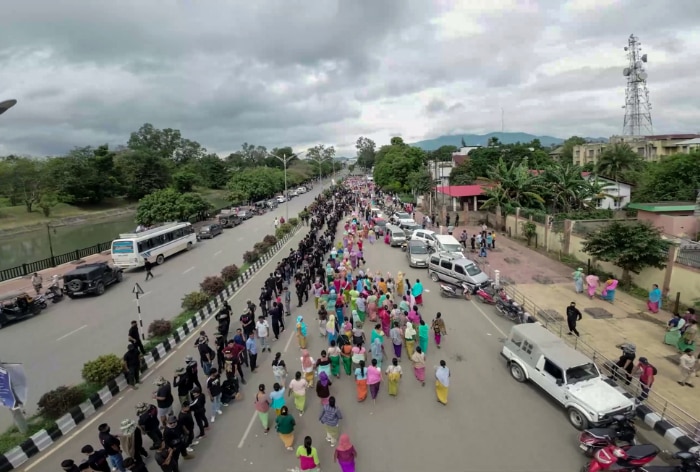 New Delhi: For over three months, an outburst of ethnic hatred has turned two communities into mortal enemies in the northeastern state of Manipur. Two communities – Meitei and Kuki – have essentially been at war over the battle for influence and land in one of the worst ethnic clashes that broke out in Manipur. Hundreds have died, and several people lost their homes, turning them into refugees while many women have become the target of sexual violence since May 3 when the clashes first broke out.
Unimaginable horror stories continue to come from violence-hit Manipur, days after a harrowing video went viral on social media and sent shockwaves across the country and even the international community. It showed two women, who were allegedly beaten and raped, paraded naked by a group of men – some of them were armed – in the streets of Manipur's Churachandpur.
Who Are At Loggerheads
The Meiteis, who make up 53 per cent of the state's population, inhabit the Valley, which accounts for about a tenth of the former princely state's land area. They claim they are facing problems in view of "large scale illegal immigration by Myanmarese and Bangladeshis".
The hill districts which account for much of Manipur's land mass is inhabited mostly by tribals — including the Nagas and Kukis and are protected from encroachment by various laws. Meiteis, Kukis and Nagas have fought over decades with one another for various demands. The latest clashes, however, have ensued between Meiteis and Kuki community.
Why Meiteis And Kukis Are At War Now – How Did It Start
Manipur has been the scene of a near-civil war that was sparked by Kuki community protesting against a demand by the Meiteis for a special status that would let them buy land in the hills populated by Kukis and other tribal groups, as well as a guaranteed share of government jobs.
The Meitei have sought special benefits for more than a decade, but received a fillip in April after the Manipur High Court recommended the government should consider the demand and set a deadline of mid-May.
Meiteis account for half of Manipur's population and extending limited affirmative action quotas to them would mean they would get a share in education and government jobs reserved for Kukis and Nagas.
Meiteis have traditionally lived in Manipur's more prosperous valley region that makes up 10 per cent of the state's area, according to a report by news agency Reuters. They have also had better access to employment and economic opportunities.
Nagas and Kukis mainly live in the poorly developed hills. The development imbalance favouring the valley over the hills has been a point of contention and rivalry between the ethnic groups.
The groups coexisted peacefully until unrelated events in recent months exposed old faultlines. Manipur shares a nearly 400-km (250-mile) border with Myanmar and the coup there in 2021 pushed thousands of refugees into the Indian state.
Kukis share ethnic lineage with Myanmar's Chin tribe and Meiteis feared they would be outnumbered by the arrival of the refugees.
Separately, the state government in February launched a drive to evict tribal communities from forests in the hills, saying they had encroached on government land, sparking anger among tribal people that they were being forced out of their homes.
Why Peace Has Not Returned After Months Of Violence
The violence began on May 3 after a court ordered the state government to consider extending special economic benefits and quotas in government jobs and education enjoyed by the tribal Kuki people to the majority Meitei population as well.
Although the first outburst of violence was put down by mid-May, sporadic reprisal attacks began within days. Both the Meiteis and Kukis are known to be flush with arms, including automatic weapons either stolen from the state police or sourced from across the border in Myanmar.
New Delhi has held talks with senior Myanmar leaders to help control armed groups that operate from across the border but this is yet to produce results. Kuki and Meitei groups also refused to join a peace panel formed by the federal government due to differences over names included in the panel.
The Kuki community had accused the Chief Minister Biren Singh of complicity and inaction, and have sought his removal. Singh, however, denied the accusations.
About Manipur
Manipur is a hilly northeastern state that shares its borders with Assam in the west, Nagaland in the north and Mizoram in the south. Chief Minister Biren Singh, a Meitei, belongs to the Bharatiya Janata Party (BJP) which crossed majority mark in the 2022 Manipur Assembly Election. Biren Singh became the first ever BJP chief minister of Manipur in 2017.
Manipur Violence: Women Attacked, Victims Of Sexual Assault
Two women, who belonged to the Kuki community, were paraded naked by a group of men in the streets of Manipur after they were attacked and raped. A video of the horrific incident created a massive uproar and drew widespread condemnation across the country. One of the women seen in the video is the wife of an ex-army man, who served as a subedar in the Assam Regiment and had even fought in the Kargil War. A complaint in connection with the video was lodged on June 21 at Saikul police station in Kangpokpi district.
"They forced us to remove our clothes and said we will be killed if we don't do as told. Then they made us walk naked. They abused us. They touched us everywhere on our breasts, our genitals," one of the victims was quoted as saying in a report by news agency The Associated Press.
The woman said the duo was then led into a field where they were both sexually assaulted. The two women are now safe in a refugee camp. Police said the assault occurred May 4, a day after the violence between the Kukis and Meiteis started. According to a police complaint filed on May 18, the mob attacked the family of the two women and killed its two male members.
The FIR filed in this case, a copy of which has been accessed by PTI, revealed the tale of mayhem that occurred before the abduction of the tribal women. The FIR also claimed that one person was killed by the mob as he tried to protect his sister from being raped on May 4 before the two were paraded naked and molested in front of others.
In a separate incident, a tribal woman had lodged a complaint at Saikul police station, stating that her 21-year-old daughter and her 24-year-old friend were allegedly raped by a mob at their rented house near Konung Mamang before brutally murdering them on May 4.
The woman said both of them were working as caretaker at a car washing station and their bodies are yet to be recovered. Police has registered a case under various sections of Indian Penal Code including 153A (promoting enmity between different groups), 398(attempt to commit robbery), 436 (use of fire or explosives to destroy house) and 448 (house-tresspass) besides a section of Arms Act. However, no charges of gangrape or murder are levelled in the FIR.
Did Fake News Trigger Violence Against Women
Several reports have stated that the crime against two women who were paraded naked by a mob was triggered by fake news. However, authorities claimed that the incident was a "spontaneous act" and it was not triggered by fake news.
"The attackers were raiding about nine villages in the area since May 3 night, the day the crisis started in the state. Next day this incident (the women being paraded naked) happened. It was a spontaneous act," a senior security source was quoted as saying by the Times of India.
What Centre Said
Prime Minister Narendra Modi condemned the alleged sexual assault of women in Manipur state as "shameful" and promised tough action in his first comments on ethnic clashes in the remote northeast which have killed at least 125 people. "My heart is filled with pain, it is filled with anger. The incident from Manipur that has come to the fore, it is shameful for any civil society," PM Modi said at the end of customary comments he makes before the start of each session of Parliament.
"The law will take its strongest steps, with all its might. What happened to the daughters of Manipur can never be forgiven," PM Modi said, and urged chief ministers of all states to strengthen law enforcement.
Over 40,000 soldiers and paramilitary troops have been deployed by the central government in the violence-hit Manipur.
Subscribe Now
Enroll for our free updates