Struggling With Hair Fall? 5 Essential Nutrients You Need For Healthy, Strong Locks
Certain nutritional deficiencies can be a major factor behind severe hair loss. This article explains how diet plays a crucial role in promoting healthy hair growth.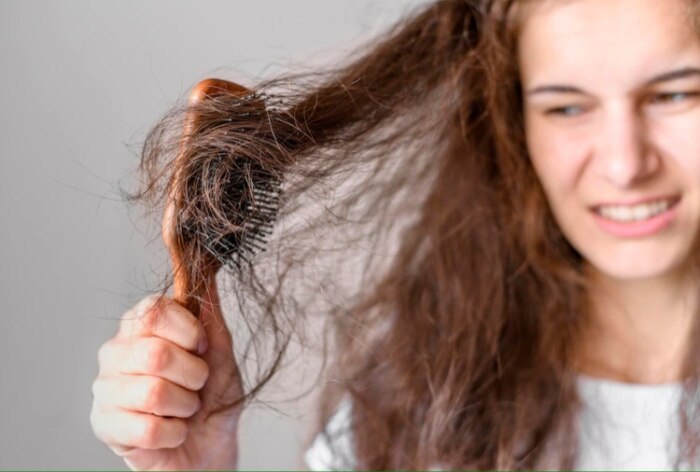 Hair loss has become a common concern, whether due to genetics or the constant stress we have been subjecting our hair to (dyeing, styling, heat treating, etc.). These are becoming prevalent issues among many, several individuals are increasingly looking for tips to control hair fall. But, do we actually know the root cause?
What Causes Hair Loss?
Factors that could be held responsible for triggering hair loss are:
Hormonal changes due to childbirth, pregnancy, thyroid problems, and menopause
Medical conditions like alopecia areata, ringworm, and hair-pulling disorder
Heat styling that includes permanent straightening, blow drying, and curling
Lack of proper nutrition
Our diet plays an extreme role in our hair growth. Well, nutritional deficiency can be one of the factors that can be a result of hair. It is important to analyze what vitamins you might be lacking and can be a reason behind hair loss. According to nutritionist, Lovneet Batra "Our hair reflects our overall health and well-being, and nurturing it starts from within. While there are various factors that contribute to hair loss, incorporating specific nutrients into our diet can help promote healthy hair growth and combat those shedding strands. Vitamins and minerals from food play an important role in the hair follicle growth cycle and in cellular turnover. Studies suggest deficiencies in vitamins B12 and D, biotin, riboflavin, iron, and other nutrients are associated with hair loss. Eating a balanced diet that is rich in these vitamins and minerals may help promote hair growth, especially if you're experiencing hair loss due to poor nutrition. So, if you are on a quest for vibrant, resilient tresses, consider exploring the power of nutrition. Feed your body the nutrients it craves, and watch your hair flourish."
5 Nutritional Deficiencies That Causes Hair Loss
Iron: This mineral is involved in DNA synthesis, including that of the DNA present in hair follicles. Too little iron can cause hair to stop growing or fall out.
Zinc: Zinc is essential for protein synthesis and cell division, two processes essential for hair growth.
Linoleic Acid and Alpha-Linolenic Acid (ALA): These essential fatty acids are required for hair growth and maintenance.
Niacin: This vitamin is necessary for keeping hair healthy. Alopecia, a condition in which hair falls out in small patches, is one possible symptom of niacin deficiency.
Biotin: Biotin is another B vitamin that, when deficient, may be linked to hair loss.
Subscribe Now
Enroll for our free updates